Nicolas Carone, 1917 - 2010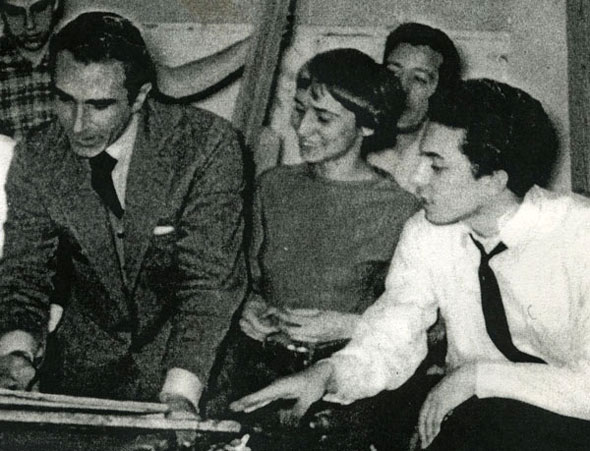 Nick Carone with students (1959)
by Robert Sievert
Nicolas Carone died on July 15, 2010. He was a supremely talented artist and influential teacher. He has had 3 major showings of his work in the last three years and has easily risen to the ranks of major practitioner of American Abstract Painting.
Carone began his career with a Prix de Rome in 1941. Then after serving in the military during World War 2. He studied with Hans Hofmann and went on to paint a number of shows late 50's. He was involved in the in the Stable Gallery and helped launch the careers of Joseph Cornell, Cy Twombly, Robert Rauchenberg and John Graham. Later he showed with the Staemphli gallery until the mid- 60's when the bottom went out from under abstract painting. Carone did not have another major show until just recently.
His works are in the collections of the Whitney Museum of American Art, the Metropolitan Museum of Art, the Guggenheim Museum, the Tate Gallery London, the Hirshhorn Museum in Washington, the Walker Art Center in Minneapolis, Weatherspoon Gallery in North Carolina and the Kinsey Institute in Bloomington, Indiana.
Carone continued to paint and went on to become an influential and beloved teacher. He taught at Cooper Union, Colombia University and was on the founding faculty of the New York Studio School. He taught in Paris and Italy. He organized an art school in Umbria.
He was a very exciting teacher combining his passionate love of classical art with the teachings of Hans Hofmann and an extreme high energy. He presence in a classroom was electric. Students 50 years later are still devoted to his teachings and his legacy.
It was through the efforts of a former student Ro Lohin that his work began to reemerge in the early 21st century. Lohin, artist and director of Lohin Geduld Gallery began showing his works on paper. He showed at Lohin Geduld in 2005, 2007 and 2009. His major paintings were seen at the Washburn Gallery first in 2008 and the excitement of showing his work inspired him to paint a new show for the following year 2009. Then 92, he had vision problems but confided that "I live to paint, I get up every morning wanting to work." A retrospective 0f his paintings from the 1950's was seen at Washburn in 2010.
He is survived by three sons, David Hart, twins Claude and Chris Carone, a sister, Rose Ballentine, two brothers, David Carone, and Mathew Carone. and a devoted throng of ex-students and admirerers. A memorial service is planned for the fall.
A review of the 2007 show on this website: http://www.artezine.com/az17_rs_carone.html