---




Editor: Robert Sievert
robert.sievert@gmail.com

Editorial Associates:
Eva Sievert
Juan Seoane Cabral


Publisher and Webmaster: ETAOIN / Gordon Fitch
artezine17@etaoin.com

Artezine is a New York City - based review of the Arts and Culture by artists for artists.

Editorial comments, contributions, and inquiries should be directed to Mr. Sievert.
Technical matters should be referred to ETAOIN (Eastern Technology Associates Inc.)

You can also write messages to the staff and contributors on our Messages page .

Permanent links to Artezine pages are best pointed to the archived version of any page including those of the current issue, since the index, contents and front pages of the current issue change from time to time.

All works, written, pictorial, musical or other, appearing in Artezine are copyrighted by their creator(s) unless otherwise indicated.

---
Janet Sawyer
2011 Exhibition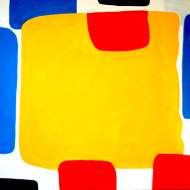 Traveling Yellow, 36"x 36", acrylic on canvas, 2010
JANET SAWYER
Jan 4 - 29, 2011
tues - sat, 11 - 6
reception Thursday Jan 6th 6-8



Blue Mountain Gallery
530 w 25th Street 4th Floor
New York, NY 10001
www.bluemountaingallery.org
646.486.4730

www.janetsawyerpaintings.com