Click on image to see larger view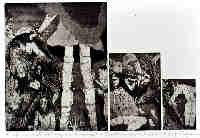 Victoria Salzman: "After some time she came to realize that her heritage as an armadillo had helped her to cope with the tragedy", Etching, 14.5" x 22"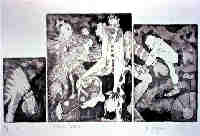 Victoria Salzman: "Clown College", Etching, 10" x 18"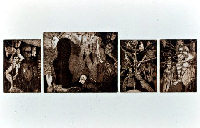 Victoria Salzman: "Christmas Eve", Etching
Victoria Salzman takes delight in making multi-image prints that over lap into ongoing visual themes that are both inspired and ludicrous. Her expertise with the etching process is clearly evident as her prints have a graphic richness set off by an extremely personal sense of line. The linear work is sometimes incisive as in the tradition of Ensor or Dubuffet and sometimes totally na´ve as it wanders over anatomical discription without a care in the world for accuracy or rightness.

She is a master at interweaving visual imagination with literary invention. Par example: "After Some Time She Came To Realize That Her Heritage As An Armadillo Had Helped Her To Cope With The Tragedy". This print is produced with three plates, each one detailing some aspect of a female creature whose anatomy is rendered in segmented plates that somehow refer to the armadillo. What is really compelling about this piece is the continued thematic imagery that invites the viewer to create a narrative. One must ask what is going on here and begin to construct a narrative from the various clues and images she presents.. This could be said for much of her work. In another piece various bits of anatomy and nudes appear behind a grid of bars (a cage?) entitled "Sometimes I Think I Am Really Going Crazy" In this piece she combines four plates.

Her sense of combining separate plates into a unified image is most apparent in "I Know I have Seen The Last Of Lillian" a six plate extravaganza that has something to do with strange creatures encountering each other beneath a cosmic sky of strangely orbiting planets and stars. This is clearly a take on alien invasion and abduction. Each plate adds to the mystery of the situation and the over all effect is both vague and intensely narrative.

All in all this is very engaging work. Salzman is a gifted story teller and visual artist who fashions prints that assemble themselves into mythic worlds hinted at but never clearly defined.
---
More of Victoria Salzman's work can be found at Art in Context.