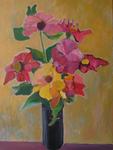 Norma A. Shatan: Pink And Gold Flowers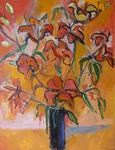 Norma A. Shatan: Spiky Lilies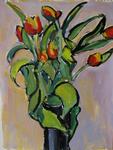 Norma A. Shatan: Red And Yellow Tulips
NORMA A. SHATAN
CHANGING MOODS: 30 Years of Flower Paintings.
Prince Street Gallery
October 5-30, 2004

In her recent show of work at the Prince Street Gallery Ms. Shatan has put up paintings, drawings and etchings that she has done over the last thirty years. It is an interesting body of work that has movement and development.

The earliest work from the seventies show an artists careful observations of plant filled window sills. Her rendering of light and form are sensitive and appealing. She seems interested in presenting a quiet orderly world in a conventional manner.

Her later work takes off in new directions as her space flattens out and her renditions of jars filled with tulips become quirky designs that are surrounded with wonderfully pulsating areas of pinks and oranges. The leaves and blossoms have a powerful direct impact and the paintings seem to be something close to stained glass windows :luminous and translucent.

Equally interesting are her etchings on the same subject. "My Take On Tulips" "I" and "II". Here again the artist uses her new form language to further define her changing sense of style.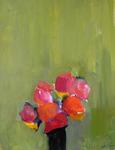 Norma A. Shatan: Small Bouquet On Green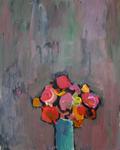 Norma A. Shatan: Small Bouquet On Purple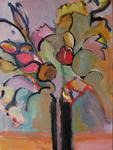 Norma A. Shatan: Unresolved Flower Painting