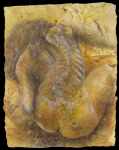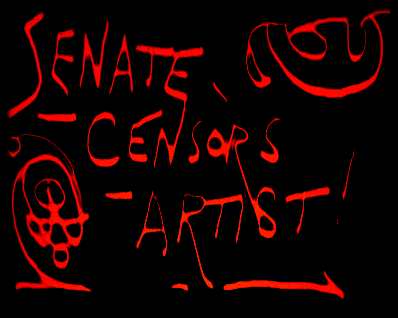 A press release from


        Gordon Fitch  
        Webmaster, ETAOIN
        gcf@panix.com 
        http://www.etaoin.com
        718-273-5556

I have the great honor of announcing that one of ETAOIN's artists, Laura Ferguson, has been censored by a committee of the U.S. Senate. It's true the writ doesn't run very far -- the compass of Russell rotunda -- but one guesses they're doing what they can. Here's the story:
Some time ago, Laura Ferguson was invited to participate in an art exhibition, actual and virtual, sponsored by the American Academy of Orthopaedic Surgeons. Laura is affected by scoliosis; art is one of the ways she deals with her predicament. As she says in a statement published on ETAOIN,
We experience the world through our bodies, and the singularity of each life experience gives its story, its meaning, but also threatens to trap us in the isolation of self. I became interested in the visual imagery of the body's interior because of my own physical differentness, caused by scoliosis, a deformity of the spine and rib cage. My body's asymmetry creates the need for a subtle effort of balancing, in my physical relationship to gravity and space, and in my psychic sense of centeredness and wholeness. The conscious awareness of bodily processes that usually unfold by themselves has made me finely attuned to my bones and muscles, nerves and senses, like a dancer. With a brush or pencil or crayon as an extension of my hand, I have sought to find a voice, a process, through which my body could express this awareness in visual form.
Or, as another participant in the show, Allison Berman, remarked, "When I paint, I am no longer controlled by my pain or disability." In Laura's case, as we can see, the pain and disability have become not only a problem to overcome but a mode of knowedge many of us do not experience, not just a transcendence but an assumption, an encompassing, a going-beyond that takes the way along with it.

Laura and Laura's part of the exhibition can be seen at http://emotionpictures.aaos.org/ferguson2.html.

Many people who have seen this exhibition have been profoundly moved by it. Most importantly, it has given courage and hope to others who are similarly afflicted, especially children. One mother who took her daughter, also a sufferer from scoliosis, to the exhibition wrote to Laura to tell her that her daughter, hitherto somewhat discouraged, had been electrified by Laura's work and was planning to become an artist herself.

After being seen in San Francisco, the exhibition was to travel to Washington, where it was going to be installed in the Senate's Russell office building. But as the _Washington Post's_ Lloyd Grove reports (in part),
The American Academy of Orthopaedic Surgeons has pulled a scheduled art exhibit from the Russell Senate Office Building after the Senate Rules Committee censored paintings of naked women and their skeletal systems. The paintings, by scoliosis-suffering artist Laura Ferguson, were among around 40 works in "eMotion Pictures: An Exhibition of Orthopaedics in Art," which had been set for display April 23-27 in the Russell rotunda. ...
Tamara Somerville, staff director for Senate Rules Committee Chairman Mitch McConnell (R-Ky.), told us that staffers rejected Ferguson's art because it featured nudity. "We make no bones about it, we do censor," Somerville said. "We are not an art museum. Nobody's entitled to display anything."

Rather than remove Ferguson's paintings from the exhibit, the organization opted to move it to Southwest Washington's Millennium Arts Center, where 100 pieces will be on display April 23 to May 26. Svetlana Mintcheva, arts advocacy project coordinator for the National Coalition Against Censorship, decried the Senate's act: "We are not even talking frontal nudity or a desire to provoke. What next? Put Michelangelo's 'David' in the closet, shame Venus into a frock?" [*]

Actually, it was apparently quite an accomplishment for Mr. Grove to get a straight answer out of the Senate Rules Committee staff; unlike the Taliban, they were quite coy about their dislike of images of the human body and it was very difficult to get any sort of explanation out of them. But now that they've owned up to the C-word, we can proceed. As Laura told reporter Grove,
"It just seems a shame. ... There's a discomfort that people have with someone who has a less than perfect body being sensual. Disabled people, if they want to be accepted, have to be saintly and cheery."
This, I think, is probably the heart of the Senate Rules Committee staff's objection to these particular pictures. Part of the oppression of the disabled is that many people do not wish them to be visible, or, if they are visible at all, they are not to be sensual, sexy, attractive, beautiful. The precise conjunction of potential eroticism (implicit in every human body) together with an abnormality, a disability which had been challenged, overcome, even built upon, was too much for them, no doubt especially those who are looking over their shoulders in fear of reactionary constituencies. To the extent they could, then, they deprived people like the young woman mentioned above of a chance to live more fully -- maybe even to live at all. And so we see, more clearly than usual, the death-dealing nature of the repressive mentality and its politics -- comfortable with war, money and prisons, frightened away by the common truth of flesh and bone.

But regardless of the U.S. Senate, you can see Laura's work now on the ETAOIN website at
http://www.etaoin.com/fer0.htm
and on the AAOS's website at
http://emotionpictures.aaos.org

ETAOIN (Eastern Technology Associates, Inc.) is the publisher of Artezine.