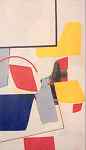 Wings (1944)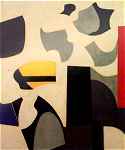 Cortège (1947)
Inspired by an empty canvas, abstractionist Vassily Kandinsky could praise "this pure canvas that is itself as beautiful as a picture". A similar infatuation with the purity and potential of empty space inspires the early abstract paintings of Nell Blaine, on view at Tibor de Nagy Gallery from January 27 to March 10.
Only nineteen when she arrived in New York from conservative Virginia, Blaine was filled with a sense of her own potential and drawn to the radicalism of Mondrian - to "the very clean fresh air that he seemed to have. The purity was exciting." She sought out Hans Hofmann, the teacher who promised to convey the most advanced ideas of European modernism, and combined his insistence on the picture plane with her own enthusiastic response to European art, and to the innovative jazz of Lester Young.
As Hofmann taught, "The highest quality in a painting is always the rhythm." Rhythm suffuses Blaine's work and provides a common thread that links its phases. She reaffirms Hofmann's emphasis on organic form: "Organic is a word I'll stick by. It means that the work is an extension of your blood and body; it has the rhythm of nature." Hofmann's concept of rhythm extends beyond the undulation of lines - which lends Blaine's painting a superficial similarity to that of Stuart Davis - and into the overall organization of space on a two-dimensional plane. On a deeper level, it characterizes the creative process itself, the emergence, articulation and synthesis of forms.
This process is easiest to grasp in Blaine's many paintings with white backgrounds, where intervals of space, like measured silences between notes in music, sustain the development of shapes and lend them architectural gravity. In some works, the shapes are defined by heavy dark outlines, as though to affirm and secure their substantial, tangible form. Elsewhere, though, colored planes float free of their drawn enclosures, as in "Blue Pieces" (1944), and point toward the progressive liberation of color in Blaine's work. In "Open and Closed Forms" (1945), one of her best paintings, line moves in complete independence of the colored planes, its quirky syncopation played off against their Mondrianesque gravity. Such works look ahead to the abstract paintings of Shirley Jaffe or Joan Mitchell, which also use the white of the ground to powerful effect.
Equally engaging in this show were the small gouaches and collages, which are weighty despite their intimate scale. In them, drawn lines and painted shapes begin to intertwine more freely and with more gestural vigor. This was the nascent era of action painting for Pollock and de Kooning. Blaine was to develop her own painterly handwriting, a kind of colored calligraphy, as she progressed into figuration, to the interiors and landscapes of her later career. Her transitional works, as she learns to draw with color, are characterized by storms of brushstrokes and by shapes that jostle one another as they press to the surface.
Blaine's transition might form the theme for another exhibition. It could explore the particular context of the 1950's, when artists stood at a crossroads of European and American modernism, and ideological boundaries were permeable. Meanwhile, though, we should welcome this show's affirmation that exploring basic issues in painting remains a rewarding experience.