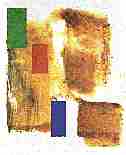 Editor:
Robert Sievert
SievertArt@yahoo.com
Editorial Associates:
Eva Sievert

Publisher and Webmasters:
ETAOIN
info@etaoin.com
Artezine[3] is a New York City - based review of the Arts and Culture. Et cetera and so forth. Editorial comments, contributions, and inquiries should be directed to Mr. Sievert. Technical matters should be referred to ETAOIN (Eastern Technology Inc.)
You can also write letters to the staff on our Messages page.
ARCHIVE/SEARCH
ARTEZINE -- A Cyberspace Review Of The Arts
Number 3, December 1, 1999
Hans Hofmann Issue