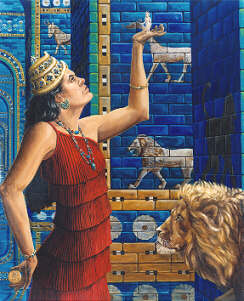 Sandra Stanton: Ishtar
Sandra Stanton will be having a show entitled,"The Divine Feminine in World Mythology", March 1 through April 17, at Agape, 657 Congress St., Portland, Maine, telephone (207) 780 1500

For those of you who cannot make it up to Maine this spring, a comprehensive overview of her work is on the web at http://www.goddessmyths.com

This is an extensive body of work, inspired by the concept of "ecofeminism": one can see the many goddesses from various cultures, and how they relate to nature. Each goddess is represented by a detailed painting. These paintings are strongly conceived and strongly painted, with scrupulous attention to costume and iconographic material.

Next to each painting on the web site is an account of the goddess and her myth. Stanton pays close attention to the history and attributes of each of her goddesses and tells the story in straightforward literary style.

The overall organization and appearance of the site is impressive as is her work.