Richard LaPresti
at The Bowery Gallery
by Robert Sievert
Richard LaPresti's current show at the Bowery Gallery(March 30-April 24) is a revival of many familiar themes.
For many years this artist has stuck to subject matter in which he is obviously comfortable and free to work. Self-portraits, landscapes and (my personal favorites) his beach scenes which I believe first started to appear in the 70's.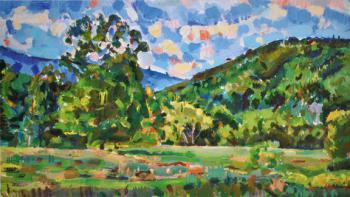 He has continued working on this theme, I think because it must be very liberating: he has a minimum of thinking to do, his hand flies through the canvas whipping up color and paint into a masterful concoction. There is definitely a masterly quality to this work.

Lapresti treads that long and winding path between abstraction and realism. His paintings are expressionistic in their loose brushy delivery and yet highly structured so that they fall into solid imagery. What is so attractive about his beach scenes is their elegant use of color. The illusion of daylight is dependent on the inclusion of the full spectrum of color. The skies and water in his beaches have radiant blues and violets that set off the warm yellowy tones of the beach and the dapple of the bathers and their colorful costumes.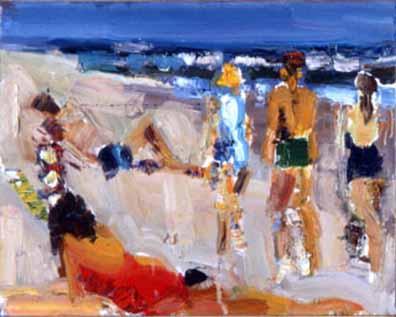 LaPresti is working with a full deck when it comes to painting from nature,he neither copies it nor is a slave to detail but makes use of the natural world to fashion pictures with deep personal recognition
In his self-portraits, the canvas explodes and myriad strokes of color are drifting out toward you, until you refocus and see a powerful image the artist painted of himself. His artistic presence is not unlike Diego Rivera's paintings of himself. He looks like Rivera in paint. There is a great deal of power and self-possession in this work.