Peter Halley
at Mary Boone Gallery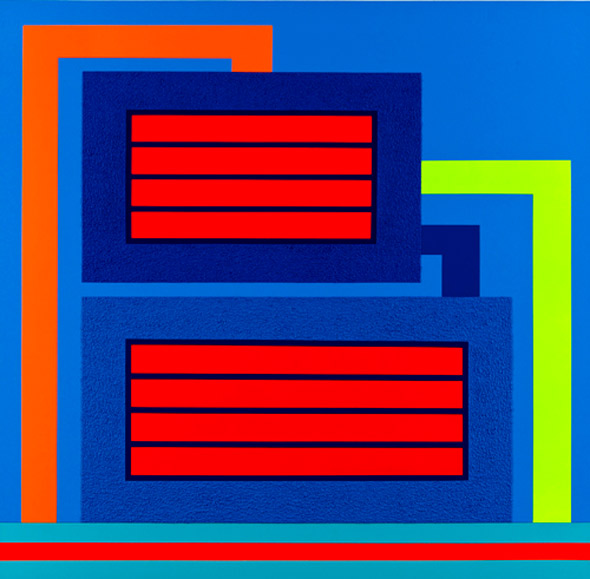 by Robert Sievert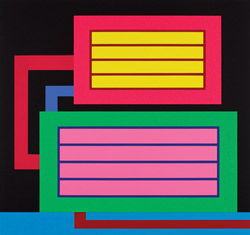 An intellectual jolt of color theory in the recent Bauhaus exhibit at MOMA was followed by the discovery of Peter Halley's work at the Mary Boone Gallery this month (Feb 13 - March 20) Halley has been painting geometric images for the last decade. His most recent work opens up the dimension of color.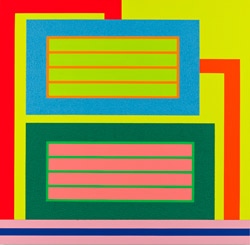 Halley is able to achieve incredible pictorial space with his choice of color. He uses geometric shapes that jump and vibrate and give an electric feeling to his work. Planes and blocks of color rocket back and forth in the picture plane or jump out at the viewer . Electric blues and eye dazzling pinks are set against deep deep black don't allow the eye to rest. There is a constant buzz.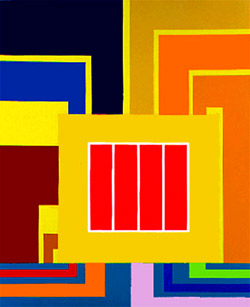 As I walked up 24th Street last Saturday I asked two young girls coming out of Mary Boone's gallery "What's inside?" "Some very very bright colors" they replied. It is interesting to me that this show is immediately available to the viewer. One did not have to meditate on this work to understand it. Its content was there at once, a sensation of pure color.
In Halley's work color is pure sensation. Using geometric form is logical . If one had used organic or natural forms the pure sensation of the color would be diluted. Instead Halley develops constructions that are totally intellectual and allows the eye to progress through the work with out ever asking "What is it?" "what does it mean?" The design is not based on meaning or allegory or expression. Halley frees art to become total sensation.