German Art At Blue Mountain Gallery
by Robert Sievert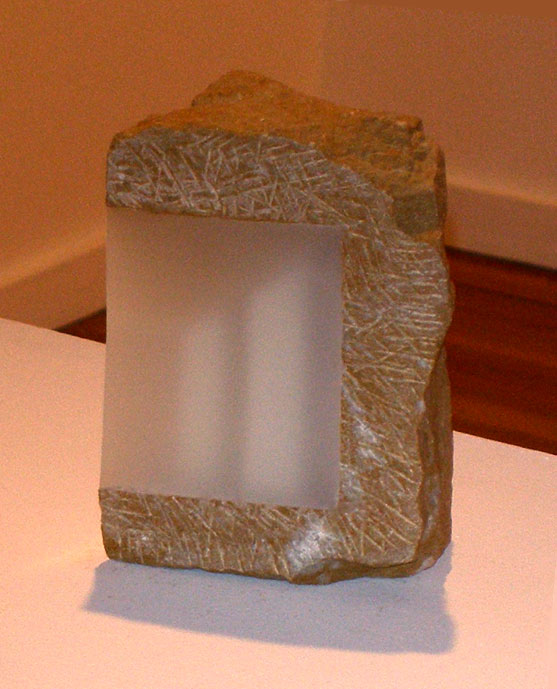 Barbara Deutschmann: "Pocket Sculpture"
In an interesting experiment Marcia Clarke, director of Blue Mountain Gallery arranged an exchange show with Galerie Mani of Berlin. They would have our Gallery for a show and in exchange Blue Mountain would have a show in Berlin. (For Galerie Mani's announcement of the Berlin show, see this PDF.) When one thinks of German Art one immediately thinks of the great expressionists of German Art and the power and graphic strength of their work. What we got was not exactly that. Four artists of rather uneven accomplishment were presented. Granted that the work was complicated by the obvious size restrictions of transporting it internationally, most pieces were small. The group consisted of four artists, maybe it is unfair to expect Galerie Mani to represent German Art but the show certainly lacked power and graphic strength.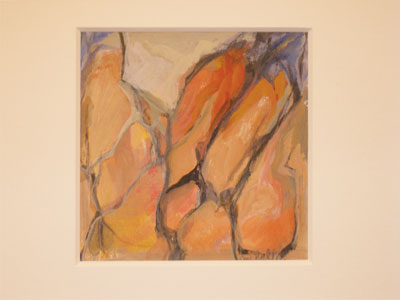 Marie-Claire Feltin, Untitled
Marie Claire Feltin is a French national whose work could be best described as harmless. It consisted of light, sensitive explorations of abstract design supposedly based on the female figure. Feltin's work is neatly layered and evenly applied so that it has a flat uneventful appearance. Her work was more tasteful than expressionistic.
In a conversation with artist Mehdi Majd-Amin and Galeri Mani director Angelika Jung I was somewhat taken aback when they did not recognize the name Hans Hofmann. Hofmann, a German national, was one of the outstanding progenitors of American Abstract Expressionism. I commented on his being an icon of American abstract art. No recognition at all on their faces. I began to realize that Galeri Mani might be an artistic backwater. A place with a certain naivite as to the major currents of the last 100 years.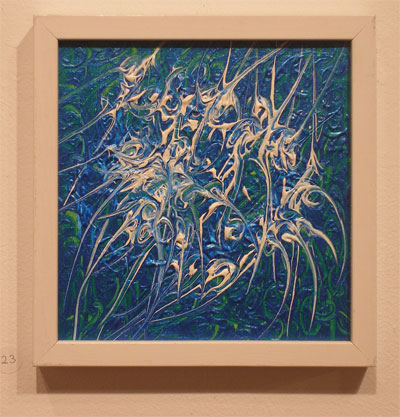 Mehdi Majd-Amin: Untitled
I was sympathetic to the work of Mehdi Majd-Amin. His work was based on his life long study of calligraphy. When talking about his work he implied that he had an almost dance-like energy when he worked. His work did have energy but was played out on a very small scale. Each piece was done on a small panel in one color, usually white against a variety of background colors. The panels were assembled into multiple pieces. One had groups of red, white, and blue panels suggesting an American or French flag.
However in conversations with other Blue Mountain artists it was pointed out the striking similarity this work had with "spin art", the sort of thing one sees at carnivals and sideshows where one is given an opportunity to create a work of art by dropping paint onto a spinning panel and having centrifical energy pull the paint into exotic designs. Once the comparison was sited it was hard to view the work from another perspective. Perhaps if the work was done on another scale, say larger, this comparison could be avoided and Amin's vision could be more available to those who are familiar with carnival art.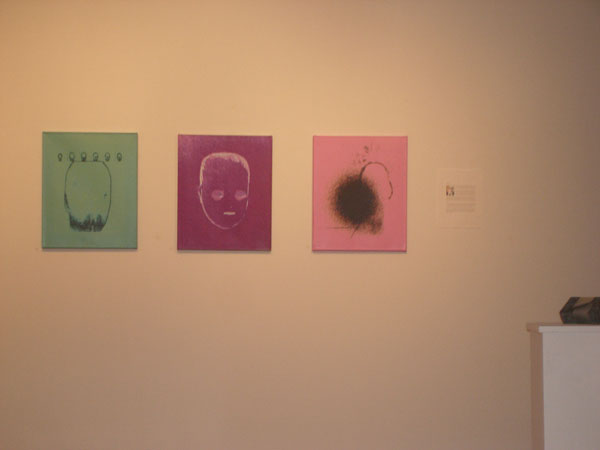 Elias Maya: Untitled
The question one must put to Blue Mountain Gallery, an organization that has an incredibly discerning standard for admitting artists into their membership, is, which of these artists would make it through Blue Mountain's memberships scrutiny? Certainly not Elias Maya, whose work seemed to be random play in Photoshop printed out on canvas. There did not seem to be a consistent raison detre to his work and it certainly made no statement other than designs possible with a computer.
The one artist who seemed substantial and possibly a candidate for Blue Mountain was Barbara Deutschmann, a sculptor of interest. There is a desire among gallery members to have another sculptor in our membership since the inclusion of sculptor Cornelia Kavanagh as a Blue Mountain member. Deutschmann's work was elegant and interesting. She titled them "Pocket Sculptures" which suggests to me that she also works in another scale. The Pocket Sculptures (see above) were geometric forms realized in concrete that enclosed cores of soft paraffin. The dialogue between hard and soft was apparent, but the glow in the translucence of the paraffin was an interesting aspect to the work. Deustchmann must be recognized for her interesting use of materials. I did think that it would be more effective in a different presentation, a more intimate setting perhaps that would allow the viewer to focus on the sensual aspects of her work. In all, the show was uneven and in no way represented a defining quality of a national or group identity. Blue Mountain has tried hard over the years to maintain a level of high artistic integrity. This current association with Galerie Mani does not seem to be in keeping with Blue Mountain's efforts for a standard of artistic excellence.