NICOLAS CARONE at WASHBURN GALLERY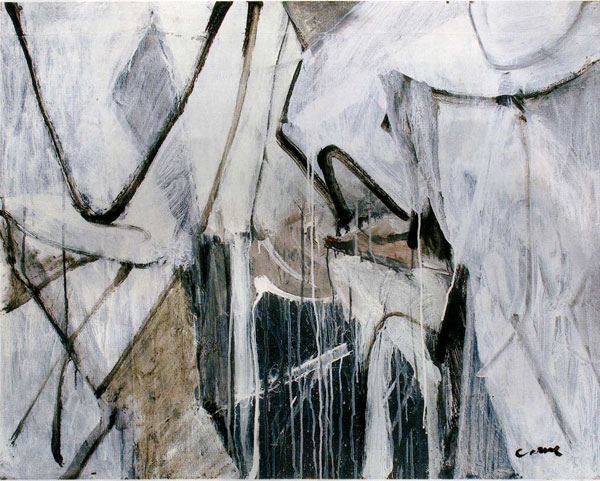 Off The Chart, 2009, acrylic on tarpaulin, 42"x33"
by Robert Sievert
When I asked the man behind the desk at the Washburn Gallery "Just how old is Nick?" he hesitated and then said, "92?" It was almost an apology.
The paintings on view in the other room were all done in the past year. An amazing feat for an artist who is challenged by vision problems and what ever else comes along with being 92. No apology needed. Done in black and white, there is a visual excitement and sense of intensity in this work. Probably the finest work Carone has done yet.
This work follows a similar series shown last year at the Washburn gallery. Those were not new paintings but had been in his studio for quite awhile. I had seen them at least five years ago. They also were black and white. But it is in this new series currently on view that Carone has made his most definitive expression of his artistic vision yet. It is as if the attention of his last show has catapulted him into renewed energy and certainty.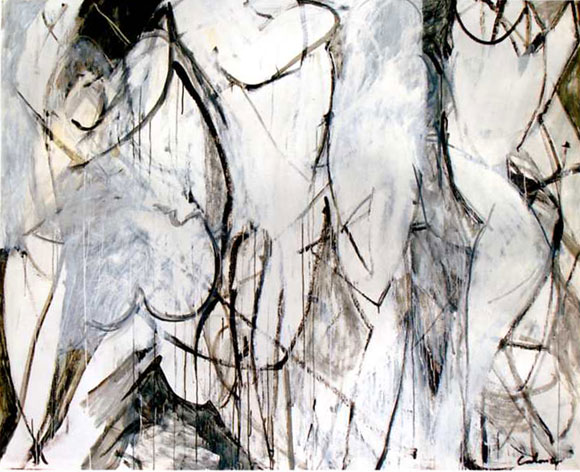 Sacred Phobia, 2009, acrylic on canvas, 94"x75"
One who is familiar with his earlier work might miss the deep tonal reds and cadmium purples contrasted by a blaze by fiery oranges and yellows, as seen in his paintings done in the 60's. There is a small amount of color besides the black and white in this series; donnish browns and faded tans play brief roles in the drama.
Carone is a poet of light. His work is not about description but about the energy existing in light against dark, a search for a metaphor of the interplay of the universal forces. Here they are a white curtain of forms overlaid with quick masterly lines and washes. His expressive line references human form against a blackness, which is deep and endless.
Has it taken Carone a lifetime to find this expression of a vision he has long kindled? How refreshing to find an artist who has not made an early body of work and faded from glory unable to repeat the feats of existing work. Carone has come forth with an expanded sense of renewal and visionary accomplishment in his maturity.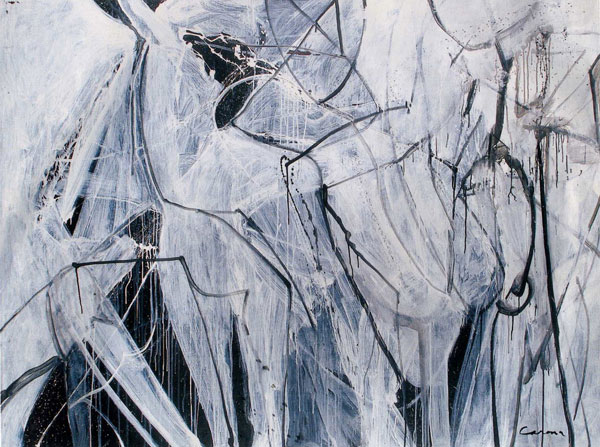 What Matters, 2008, acrylic on tarpaulin, 72"x54"
copyright © Robert Sievert 2009