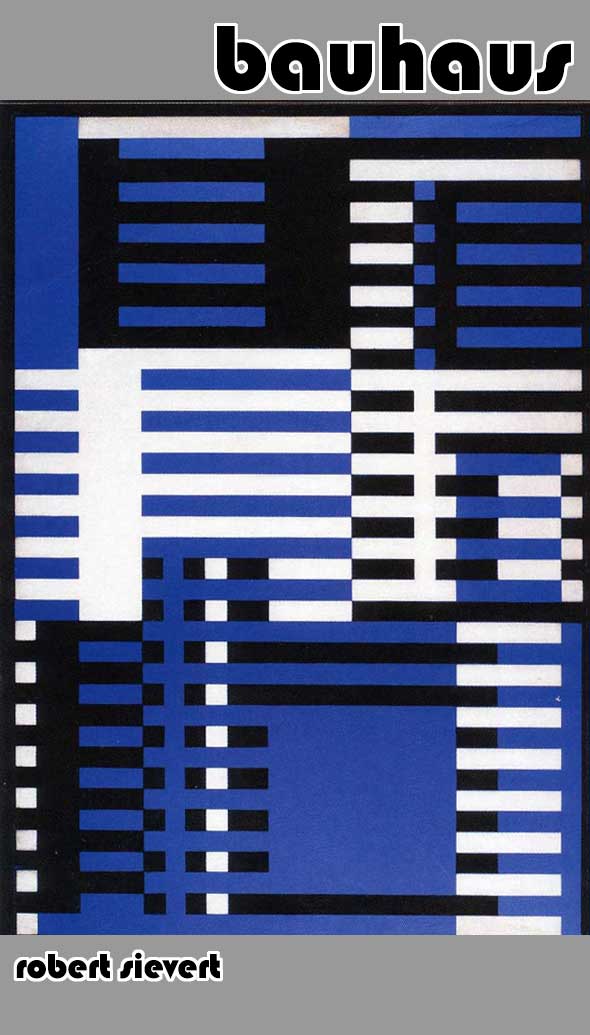 I can remember 1956 clearly; I had just graduated from high school and I was in love with German Art. I thought the Bauhaus was the most amazing historic phenomenon and because of my youth did not realize it had all happened only 20 to 30 years before then. I saw a magnificent exhibit of Paul Klee at the newly designed futuristic World House Gallery. I came in possession of a MoMA book on the Bauhaus. I listened endlessly to Kurt Weill music and poured through books on Bauhaus era Art. I began my studies at Parsons School of Design in their Industrial Design department. Many of the faculty there came from Yale and in some way represented a continuance from the Bauhaus.
I forgot most of this until last month when then I visited MoMA to see the new exhibit they have mounted on the Bauhaus. As I walked through the galleries it all came back and once again I came under the influence of the Bauhaus.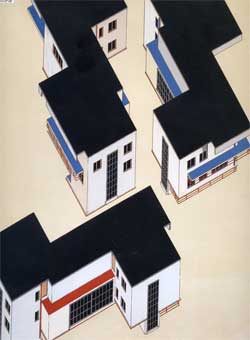 The Bauhaus was an experimental art school in Germany with the utopian ambition of bringing forth new forms of spatial design and artistic production that would in turn inspire a new more communal way of life. It lived in three locations, at first in Weimar, next in a magnificent building designed by Walter Gropius in 1925. Forced to abandon this building by the Nazi Party in 1928, they tried to relocate in Berlin.
The exhibit is divided into three sections of color-coded galleries. Each section for a time and location of the Bauhaus. The school was originally organized in the Weimar Republic when architect, Walter Gropius envisioned a new kind of format for the existing arts and crafts school. He wanted to include new materials and machine technology into the schools curriculum.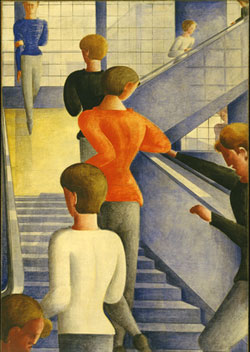 Next Gropius designed a magnificent new home for the Bauhaus in Dessau in 1925. One can get a feeling of the building from the famous Oscar Schlemmer painting of the stairway done in 1932.. This painting became a New York icon for Modern Art and hung for many years in the stairwell of the original MoMA. They were forced out of this building in 1928 and moved to Berlin. By 1933 the Nazi Party had had enough and closed the school down for good. Most of the faculty moved on to the United States where they continued with their ideas at Black Mountain College and finally Yale University.
The current show at MoMA, which runs through January 25, 2010, includes many projects completed by both faculty and students. The faculty included Paul Klee, Josef and Annie Albers, Laszlo Moholy Nagy, Herbert Bayer, Josef Itten, Oskar Schlemmer and Lyonel Feiniger. One of the things that struck me was the condition of the art on view. Because a lot of it was student work the quality of the paper had deteriorated and was yellowed and curled. This was especially true in the Color Theory section. Perhaps because this art was industrial-oriented it did not have the archival attention given to most fine art.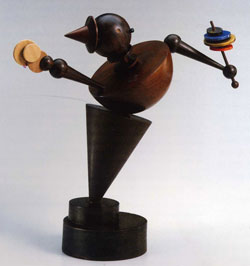 The Bauhaus represented a forward-looking Europe. In the early 20th century there was a hunger for Modernism, which was seen as a way to escape the dark, dismal past of Neoclassical and gothic design. Much of the design was based on a confidence in the technological and mechanical. Gropius was an architect that developed clean uncluttered designs for buildings using glass and steel. He wanted to spread that clean esthetic into the decorative arts. He wanted to reconcile Art and the industrial society.
Color Theory was an important part of the curriculum. Albers and Klee did extensive projects in this area. Much of Klee's work seems to be directly tied to Color Theory.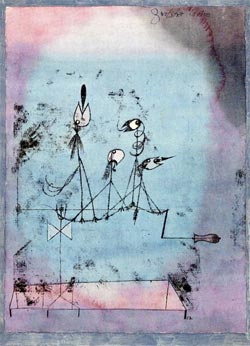 Klee's work consisted of sensitive watercolors of grids and mechanical designs. It was really exciting to see his "Twittering Machine" a watercolor and ink drawing, which I loved so much as a youth. Here Klee puts forth his wit and a bow to Modernism in a small delicate drawing of mechanical birds. Klee also taught drawing and there were some of his pedagogical designs. They did not generate much excitement beyond giving examples of his hatched and scrawling sense of line.
Albers developed a life long study of the interactive nature of color. His Color Theory followed him through his career that ended with his being the chairman of the Design Department at Yale until his death in 1953. In this exhibit examples of color studies were done in oil paint, gouache, watercolor and glass. There were beautiful glass light boxes where pieces of colored glass, were mounted on grids and light shown through them. Albers went on to paint his iconic "Homage to the Square" series which were seen in New York galleries during the popularity of Abstract painting. Their cool geometry was always an alternative to the brushy art of the day.
Another painting that interested me was a reclining nude of Josef Itten. Painted in the 20's, it was a figure laid out across a grid. Related to Cubism, but not invested with the push and pull of space seen in the Cubist work of the previous decade the painting had innocence that charmed me. German art was fighting hard to move into the Modernist era but not quite sure how to manage it.
The many pieces of furniture seemed to come directly out of the IKEA catalogue. Of course this is an unfair statement as actually the design represented that spare Nordic sensibility.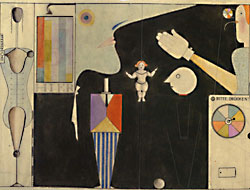 Stagecraft was part of the curriculum. An important part was Schlemmer's mechanical marionettes. Beautiful puppets based on the geometric and mechanical. There was an entire case of these puppets that really intrigued me. Most of the designs for the puppets lacked organic form, and instead there was mechanical basis to the designs. Repetition and rhythmic forms were used to create. Themes Schlemmer designed in a stage work, Ballet Mechanique in 1923, which many of these puppets were studies for.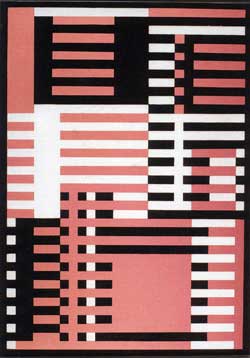 Most of the fabrics on view were the product of a weaving workshop run by Alber's wife Anni. She produced many wall hangings. Anni Albers was experimental in her work and used different fiber such as rayon mixed with linen, wool and silk. The fabrics were of all sizes and had interlacing geometric forms woven into them. Some how it all fit together, the spare furniture design, the geometric themes carry through most of the work produced by Bauhaus artists
The Bauhaus has to be seen as the kick-start of Modernism in German art. They did not have the excitement of the Paris School with Cubism and Dada but they did hunger for the new. They were strong in group effort and collectively made their way into the 20th century. Unfortunately all this effort for a new utopian industrial society was wiped out by the Third Reich and it was moved to America. We are still in debt to the leaders of the Bauhaus for their vision.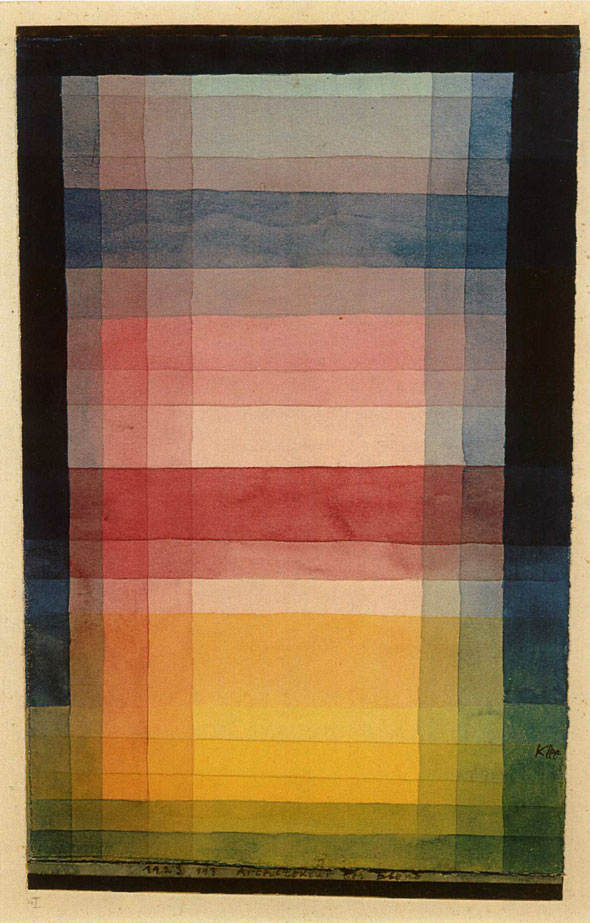 Paul Klee: Color Study
Paul Klee / Color Study