click on images to see larger view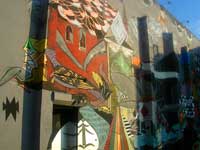 Outside of Deitch Studios in Long Island City
Deitch Projects is presenting a fascinating double bill of installations in early September and continuing now at their studios on the East River in Long Island City: "The Swimming Cities of Switchback Sea", by Swoon, in one half of their cavernous warehouse space and out on the water in front of it, and "The Beautful Struggle" by Dzine in the other half.
Down at the end of 44th Drive, past garages, warehouses, and a rather forbidding ritzy restaurant -- the kind with white-jacketed valet service -- around a rather industrial corner down by the water, one comes upon a building with a huge surrealist mural and the fading word "SABROSO" facing the river. Sabroso indeed: a happy omen for art gallery. The broad doors open to a large space filled with contemporary art; or, you can go around the building and find yourself on a concrete wharf right on the East River.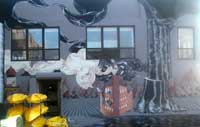 Outside of Deitch Studios in Long Island City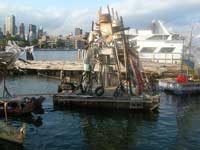 Swoon: Swimming Cities of Switchback Sea (outside) (2008)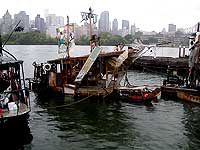 Swoon: Swimming Cities of Switchback Sea (outside) (2008)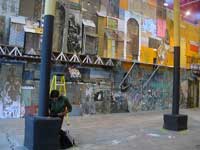 Swoon: Swimming Cities indoors; view to the left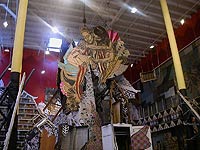 Swoon: Swimming Cities indoors; central sculpture, view from front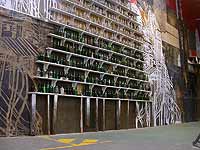 Swoon: Swimming Cities indoors; bottle collection, center rear wall
Swoon
First, outdoors (partly), there's the Swimming Cities of Switchback Sea, by Swoon and friends.
On or about September 7th, this flotilla of fantastic floating sculptures, constructed basically out of junk, appeared in New York City, having made their way down the Hudson River from Troy or thereabouts. They were open for viewing on September 11th and performances were given on the 11th, 12th and 13th. At the same time, a large installation was put in place inside the "Sabroso" building which connected with the sculptures in material substance, visual appearance, and theme. (In the pictures which accompany this article, you will see a few of the people involved, which will give an idea of the large scale and detail of the installation.)
Ropes, hoses and rags lead from the floating sculptures to the installation inside the building. These include numerous portraits and "found objects of urban decay", including a wall of bottles and curious objects painted gold. The walls are painted in such a way as to suggest that the viewer is a few feet under the water, looking upward toward the air and light above. The ropes and so forth lead to the skirts of a twenty-five-foot high paper sculpture of two sisters embracing, which stands at the center of the indoor installation and was inspired by a dream. The dream is connected to a previous adventure of a similar sort on the Mississippi River: "She envisioned a woman who would gather the boats into a safe haven under her skirs."
The entire project took about a year of design and construction and involved seventy-five collaborators; its complexity shows it. Forty people sailed down the Hudson on the constructed vessels. Swoon designed all of them and supervised and participated in their construction. Previously, she has also inserted portraits into architectural settings "on the street" and more recently in gallery installations, where the environment is deliberately constructed rather than found. For further information, see the Switchback Sea web site and Swoon's page at the Deitch web site.
This is a show you shouldn't miss; you are not likely to see anything like it for a long while. Given its complexity, size and richness I recommend planning on giving it plenty of time and probably more than one viewing.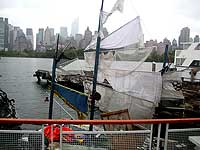 Swoon: Swimming Cities of Switchback Sea (outside) (2008)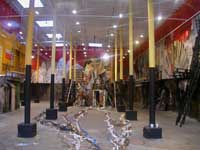 Swoon: view of ropes leading to Swimming Cities (2008)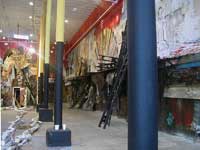 Swoon: Swimming Cities indoors; view to the right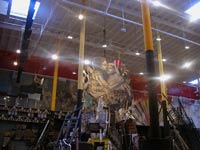 Swoon: Swimming Cities indoors; central sculpture, view from left rear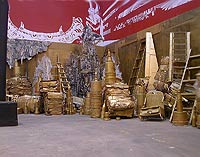 Swoon: Swimming Cities indoors; golden found objects, left rear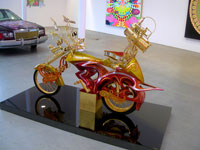 Dzine: The Beautiful Struggle / bicycle, car, painting (2008)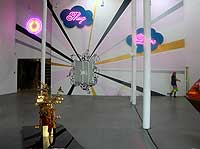 Dzine: The Beautiful Struggle / neon, painting, turntable, bicycle (2008)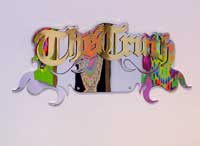 Dzine: The Beautiful Struggle / sculpted mirror "The Truth" reflecting paintings
Dzine
The other impressive exhibition at Deitch, also until October 18th, consists of a series of paintings, sculptures, and other constructions by Dzine, titled "The Beautiful Struggle". These are based in two seemingly distant aesthetic traditions, that of Chicano lowrider culture and that of geometric mandalas. However, these is no feeling of conflict between the works on display. They are all highly finished and reflect one another in a way which might be a bit difficult to explain verbally but works intuitively.
Lowrider culture is represented by highly ornate, thoroughly finished, elegantly decorated surfaces which have been applied to familiar (yet often distorted or raked) objects like cars and bicycles. The displays, inspired by the decor of street culture, mix personal artistic expression with competition for status.
The mandalas on the wall share a glossy, brilliant surface with the objects before them; one might say they seem to have taken in and become what they watch. They are carefully worked out and, in spite of their flamboyant colors, are calm and balanced in effect. Indeed, so are the lowrider objects; although they were made from machines for travel, they have made their journey and come to rest, at least for the moment.
The entire installation is overseen, so to speak, by a mandala-like neon construction declaring the paradox of "Thug Love". At its foot is a turntable, turned on its side and covered with silver spangles, a different kind of tool for a different kind of travel. The turntable rotates as turntables should, reminding us, perhaps, of DuChamp's experiments with rotating wheels, although less dizzying and a lot better looking.
At the opposite side from the neon and the turntable, reflecting the rest of the show, a carved mirror declares: "Truth".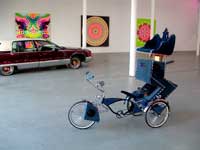 Dzine: The Beautiful Struggle / bicycle, car, paintings (2008)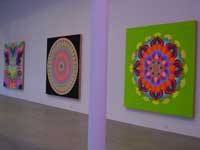 Dzine: The Beautiful Struggle / mandala paintings (2008)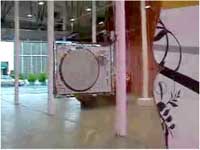 Dzine: The Beautiful Struggle / turntable sculpture reflecting interior (2008)