Click on image to see larger view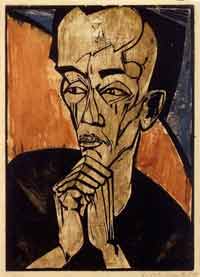 Erich Heckel, Männerbildnis, 1918 (color woodcut)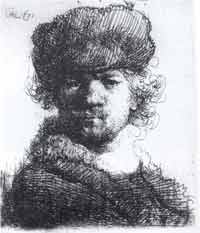 Rembrandt van Rinn, Self Portrait in a Heavy Fur Cap, 1631 (etching)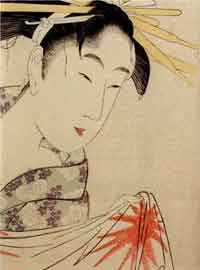 Kitagawa Utamaro, Komurasaki of the Tamaya House After a Bath, ca. 1795-1797 (oban tate-e)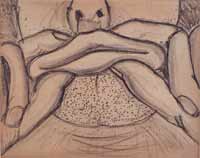 Bruce Nauman, Soft Ground Etching - Coral, 2007 (2-color etching)


I decided to visit the monster assembly of prints put together by the International Fine Print Dealers Association (IFPDA) at the Park Avenue Armory. This is a yearly event in which hundreds of dealers put out their wares.

The huge space was laid out with hundreds of booths in which the dealers arranged prints from as far back as the 16th century and as current as contemporary 21st century artist. I saw Rembrandts, Piraniesi, Hiroshige, Bruce Nauman and Donald Sultans. Many red dots and NFS markings hung alongside prints.

There seemed to be a formula going on here. Print dealers would prominently feature a "Star Print", a Rembrandt, Goya, Heckel, Pieriniesi or perhaps a Japanese Master as the main exhibit and then draw you in to see what else they had to offer. Many portfolios were open to viewing and tables and chairs were clearly provided for this purpose.

My friend, Anne Marie McDonnell, and I came with veteran print maker Herman Zaage. Herman had friends and dealers to meet so, Anne Marie and I toured the show together. After several booths we stopped at a booth in which several portfolios of preparatory drawings by Japanese masters. It was wonderful to peruse this work -- there were many beautiful drawings for under $500.00. I was struck by the generosity of allowing the public to view the work in such an intimate situation.

There was an abundance of Japanese work as well the work of the German Expressionists. Perhaps the most stunning piece of work I saw was a print by Erich Heckel, a self portrait with his hands folded in front of him. As a youth I owned a book of German prints with this very print in it. It was unbelievably powerful in person. It was a great opportunity for me to see many of the German Expressionist artists that I had mostly seen in books.

We stopped by Gallery St. Etienne and went through the portfolio of contemporary artist Sue Coe. I once had a professor at Brooklyn College who thought her to be the most important artist working today. Her work was very political images of torture and injustice. Very simple, like political cartoons.

The two color soft ground etchings of Bruce Nauman were both funny and strangely erotic. Close up views of a man mugging for the mirror in sort of an assessment one goes through awakening in the morning. The prints focused on the lower part of the face. Fingers pushing and pulling lips and cheeks, the cheeks and jowls unshaven with a hint of a beard, just enough to create a graphic texture of manhood.

It was exhausting to see so much work in such an intensive atmosphere, but well worth it. I think the reason I enjoyed the printmaking world was that to some extent it is an area of art where drawing still matters. Printmaking and drawing are so intimately involved and have always been so down through the ages.