Click on image to see larger view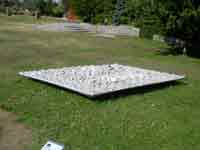 Linda Ganjian: Bountiful LIC Memorial Carpet, 2007 (cement, sand, steel frame; 2'x14'x10') (1)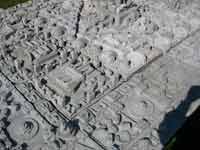 Linda Ganjian: Bountiful LIC Memorial Carpet (2)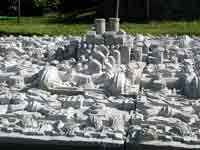 Linda Ganjian: Bountiful LIC Memorial Carpet (3)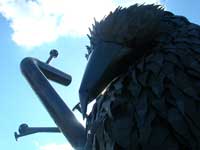 Rachel Owens: Groundswell, 2007 (steel, rubber, wood, pump, water; dimensions variable)(1)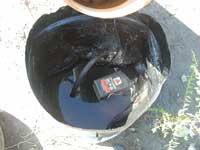 !image1#Rachel Owens: Groundswell(2)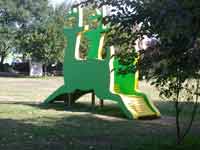 Vandana Jain: Deere Crossing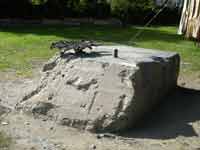 Deborah Fisher: New Orleans Elegy, 2006 (bronze over steel armature, 6"x32"x37")(1)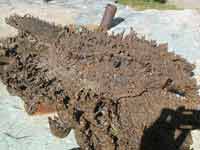 Deborah Fisher: New Orleans Elegy (2)
Socrates Sculpture Park, in Queens on the East River across Vernon Boulevard from the Noguchi Museum at the northern end of Long Island City, hosted two exhibitions this fall, Emerging Artists '07 and Open Space. This is a rather partial (in the sense of incomplete) account of them. Both exhibitions were backed by an impressive array of corporate and institutional sponsors, and represent, I would say, the total victory of conceptualism over the formal values of Modernism and most of its predecessors. Nevertheless, gunfire does not sound across Vernon Boulevard; in fact Noguchi and Socrates get along well and cooperate on many projects. One may see the former as an elder benignly smiling on the antics of its younger sibling.
In spite of the tendency of conceptual art to run to humor, political sloganeering, and pseduo-Zen, I saw some pieces which attempted serious emotional or perhaps spiritual content. Linda Ganjian's Bountiful LIC Memorial Carpet, for instances, recalls the days when Long Island City was an industrial powerhouse instead of a magnet for Manhattan-rent refugees and the next target of the galloping gentrification which is now in the last stages of devouring Fort Green, Williamsburg and Greenpoint, and reminds us of the beauty of factories and dynamos, so superior to the vacuous ice-cube trays of "up and coming" real estate.
The "carpet" here is perhaps a magic carpet; it is very much like a model city, but the structures are surreal and poetic, a sort of three-dimensional 1930s science fiction story. It is large and made of concrete like Long Island City itself. One wonders what will become of it, just as one wonders what will become of Long Island City. Perhaps it will be translated to a higher realm.
Probably the most striking and most political of the pieces on display was a gigantic crow / oil company named Groundswell. Although it was probably not the largest piece on hand it dominated the others (in proper oil-company fashion) and was appropriately placed in the center of the park. For those of you who have fast links to the Net, here is a 1.2MB Flash video of a walk around it: Groundswell video.
Of the Open Spaces installations, I thought Takashi Horisaki's Social Dress New Orleans particularly imparted a sense of desolation grown old and forgotten, rather beautiful in a Faulknerian way. There were a number of other quasi-houses, but this one was the most evocative.
The darkest, and as it happens most Modernist of the pieces was Michael Mercil's shadows of a dream of the 20th century (the sculptor seems to disdain upper-case) rendered in smooth black stone, which I thought could be read in two directions; in one, we begin with a mysterious peforation, to which the rationality of a stair is antithesized, and finally these combine into a rather baroque tower which seems to be striving upward into space. In the other, the tower is reduced to a staircase and finally goes down the hole, which on close inspection looks a lot like a whirlpool. I suppose in dreams we can go in both directions at once. This dark piece was placed off in a corner by itself, and nearest to the Noguchi, by chance or design.
According to its web site, Socrates Sculpture Park is one of the largest exhibition spaces of its kind, and while the main lawn is by and large somewhat ratty -- it receives many local visitors every day -- someone has gone to a lot of horticultural trouble with good results around the periphery. Perhaps Socrates is quietly taking on the role of a botanical park.
At the time of my visit, one of the exhibits had escaped across the street and was headed north.... see the pictures below.
Some web links which may be of interest: http://www.socratessculpturepark.org/index.htm
http://queens.about.com/od/thingtodo/ss/lic_art_6.htm
http://www.licweb.com/socrates/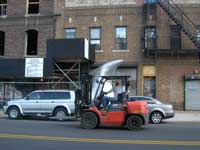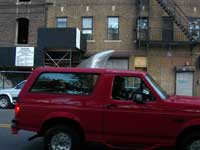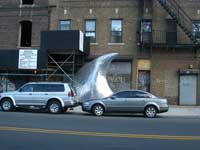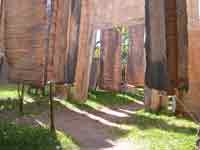 Takashi Horisaki: Social Dress New Orleans -- 730 Days After, 2007 (latex, cheesecloth, pigment, surface materials from house, PVC pipe, grommets, wire, 18'x17'x32'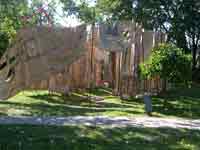 Takashi Horisaki: Social Tress New Orleans -- 730 Days After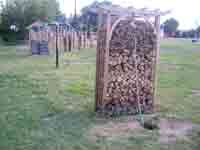 Brian Wondergem: In Advance of a Woodpile, 2007 (steel T-frames, arbors, firewood, chain, mixed media)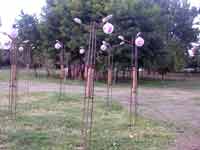 Changamire Semakokiro: Mama I wanna do the damn thang B fresh to def N let my balls hang, 2007 (steel, wood, cotton, urethane resin; trees: 8.5'x1.5'x1.5'; basketball: 9" diameter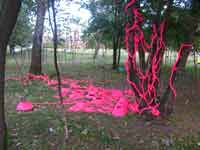 Caroline Mak: Root Architecture (latex tubing, 4000')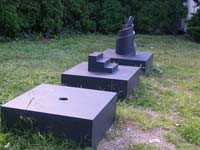 Michael Mercil: shadows from a dream of the 20th century, 2003-2006 (carved black diabase stone, 14x36x36"; 23x36x36"; 42x36x36")