Click on image to see larger view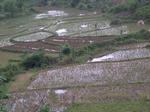 Gardens near Hanoi, Viet Nam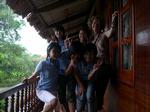 Diane with her students at the Apollo English Institute camp facility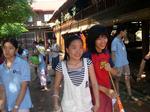 Students at the Apollo Institute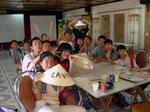 Class at the Apollo Institute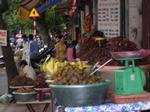 Street Market, Hanoi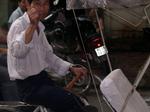 Motorbike Hordes in Hanoi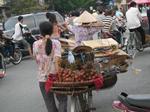 Going to Market, Hanoi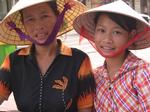 Women in Hanoi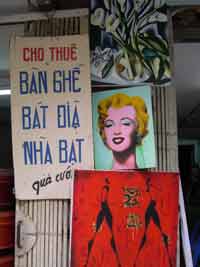 Outside of K. Lef Gallery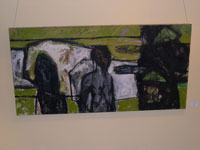 Paintings in K. Lef's gallery (1)
It is teeming rain this morning in Hanoi, Vietnam. I am in my recently favorite restaurant where actually they don't have breakfast on the menu. My usual haunt for some reason has declined to give me butter -- either they don't have it or they are just sick of my face -- the inscrutable Asian experience!! Anyhow, this place has excellent coffee and the watercolors I noticed before turn out to be real when I get up and look closely at these cityscapes. Most places have some kind of art in them but usually repros. These are real and very Sargent-like, dated appropriately 1938, by Le Cuu whom the waiter tells me (the one with the beautiful African looking face and who speaks good English) is not famous. The work is not purchased but hanging here as I guess storage and more hang in another larger restaurant nearby. Ah, the fate of the artist! -- but they are beautiful sketchy paintings and fairly large, well framed and of Hanoi in days when the place hadn't its present fierce insane motor bike culture and advertising signage -- the quiet days before wars. This restaurant gallery is in the old quarter and the place down an alley-like street, is called Little Hanoi.

Coming to Hanoi by virtue of a summer teaching job, I have had little time to thoroughly discover the city but I have found evidence of an art scene with the help of an another American painter, Kathy Koller, who came here originally on an artist's residency which apparently failed before she even arrived. She has, nevertheless, chosen to stay here for a while as she claims there is more of an appreciation for art than, for instance, in Thailand, where she was prior to and on some sort of minor residency, and where she built a straw and mud house. Hanoi does have an impressive Fine Arts Museum in an area near the Temple of Literature which is it itself impressive as an historic monument to scholars and was the first university in Vietnam centuries ago. The Temple occupies probably six square blocks of walled-in space with gardens and sculpture and pagodas. The Fine Arts Museum nearby is in an enormous once-French official building. The colonial architecture is typically French, long shuttered windows, wrought iron and a yellow color, imposing in size and composed of several buildings. Of course, there are the Buddhist sculptures and antiques but more interesting for me are the lacquer paintings of which there are at least several large rooms. These are paintings that are painted in layers over a dark ground(lacquer material that has been colored with dark pigment -- apparently the tree sap is white initially). So the paintings are very luminous and in addition metallic colors of gold and silver are used. I especially liked the early Twentieth-Century examples as well as some of the later more modern adaptations. The paintings also utilize some of socialist themes and war experiences which sometimes are successful and sometimes are just sentimental propaganda.

I haven't found in Vietnam an art form unique to it beyond the lacquer paintings and some handicrafts which are turned out as production for the tourist trade. That being said, there are hundreds of galleries that produce art, some of which is purely commercial and even amusing, as the artists copy literally western art, from Warhol to Van Gogh as well as my favorite, Botero's Mona Lisa (my favorite as a copy). There are though, real galleries. I've found a couple and there are of course, more, some of which are not open in the summer such as the gallery at the Goethe Institute, also near the Fine Arts Museum. The Fine Arts Museum has a contemporary gallery, two shows of which I've viewed: one a woozy group of non objective paintings traveling from Italy and another a quite beautiful show of an American artist from Houston. This young woman's heritage is Vietnamese and she built coffin sized black boxes and painted on the lids using the layered lacquer technique with common place images: Asian food, clothes, shoes, etc. The show was called Black Boxes and meant to convey memories. For me it had no emotional content but was beautiful to look at. There were some 15 or 20 of these in two rooms. Their interior was an vivid orange red, a color with Asian significance meaning good luck and prosperity. It is also used in ceremonies extensively.

Across from the Temple of Literature on Van Mieu Street, I went to an opening in Maison Des Arts where an impressive show was hung of a dozen artists whose work ranged from non-objective to graphic images done in oils, and some prints. These were all strong and many used bright colors. The Vietnamese seem to like expressionism and, of course, graphic decorative images, but these went beyond decorative and were a good example of fine art, in my opinion. Apparently they are mainly done by young artists. I had missed the previous show of their elders. The opening itself was unlike New York, people came and left rather quickly. There didn't seem to be any free booze or snacks. Actually I was told that there had been very early on. All ages showed and included people who brought their children.

Another gallery whose windows I have peeked in as it is rarely open is the so-called Alternative Gallery (I don't know the official name). It is stationed in an alley behind the Opera House. The two shows I caught glimpses of were not interesting to me, one consisted of several stacks of school bus colored yellow bricks and another was of skyline silhouettes painted on two square boxes.

Finally I mention the gallery in Bookworm which is essentially a bookshop but uses its walls to hang artwork and has a little gallery space in the back. The show of the summer has been a group show of emerging Vietnamese artists, all very proficient at their craft, and it ranges from mono prints to small non-objective pieces to some socialist graphic paintings using the socialist colors, red and yellow. I loved the mono prints which were on large paper and were of long stemmed unopened lotus flowers. They were minimal and in monochromatic color -- very delicate. Lotus flowers are in reality extraordinary and I think there are several types. Anyhow, the prints were lovely in their sophisticated simplicity. Then there were portraits of children, very expressionistic and reminding so much of Alice Neal. They were square and measured maybe 20 X 20 inches.

Lastly, I had the chance to meet Kathy's landlord, Nuygen Lab, a man either approaching 60 or more likely in his 60's. He is a life-long painter though he calls himself an amateur as his living was gotten through engineering. He has a nice touch, obviously influenced by the French and in the photo I took of him in front of one of his landscapes it looks almost as though he were reinterpreting surrealism, as the green fields are so intense. However, it happens that the fields really are that color, so I doubt surrealism was his aim. He is familiar with styles, though, and skates around in them as we saw from his work sitting in his impeccable studio, which also looks rather a mixture of Chinese and old Europe. He speaks little English and is more fluent in French.

So there you have some idea of Hanoi and visual art. It should also be mentioned that even in my little economical hotel are real prints. The Vietnamese are a creative and artistic people and it shows.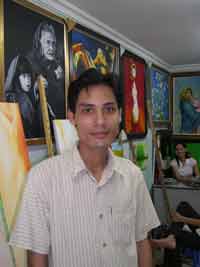 K. Lef in his gallery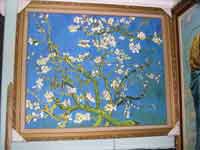 Paintings in K. Lef's gallery (2)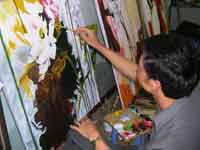 K. Lef painting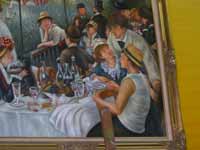 K. Lef copy of a Renoir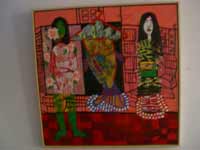 Painting in K. Lef's gallery (3)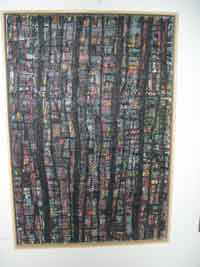 Painting in K. Lef's gallery (4)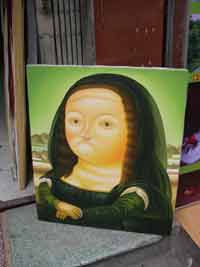 Most popular: Copy of Botero's copy of Mona Lisa