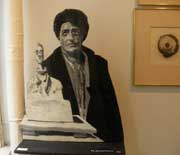 Marc Zimetbaum: Giacometti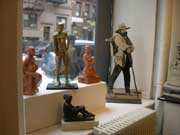 Marc Zimetbaum: Figures, Cézanne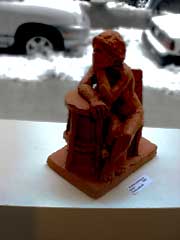 Marc Zimetbaum: Figure Study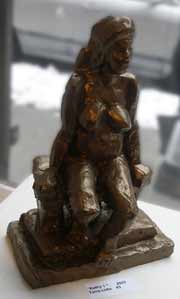 Marc Zimetbaum: Figure Study
Marc Zimetbaum at 2/20 Gallery
220 West 16th Street, NYC
It was just like the old days... a clean, well-lit storefront on the street where viewers could stroll by and and get a good look at the art inside. At one time in the late 50's East 10th street was dotted with a number of galleries like this, 2/20 gallery at 220 West 16th street. Currently the gallery featured the work of artists Sal Sirugo and Marc Zimetbaum. The view from the sidewalk was most inviting.
Zimetbaum's work wavers between academic studies and powerful interpretations of the human form. It is difficult to separate academic and creative. One could say that in the academic exercise of working from a figure one captures the form of a figure, whereas a more creative effort goes beyond form to create a figure that is alive, has a soul, the product has a depth that is as complex as a person. There is no doubt that Zimetbaum is a master when it comes to rendering the human figure. His studies are solid, articulate — and yet somehow wanting. Could it be scale? With a talent as large as Zimetbaum's, are these small figures enough? One longs to see a life-size rendition of any of these small studies. Surely they would have the spark of life that seems missing from some of the smaller pieces.
His work breaks out of the academic mold into the creative realm in his series of homages of artists of the past century: Cézanne, Giacometti, Rodin, Lachaise and Esteban Vincente. The figures are cut out of heavy plywood and painted in an expressionistic manner. Using a very limited pallette of black and white, he manages to convey powerful solid presences as well as clear likenesses of these artists. Best for me was the figure of Lachaise pictured in Zimetbaum's homage contemplating his iconic Woman which stood in the Garden of the Museum of Modern Art for many years. The brooding nature of the piece is both Lachaise and Zimetbaum. Here the imprint of one artist on another produces an inspired work of art.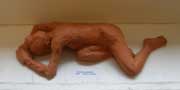 Marc Zimetbaum: Figure Study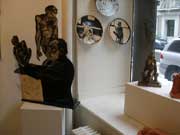 Marc Zimetbaum: Rodin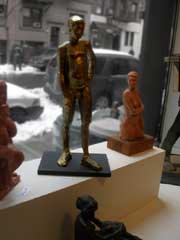 Marc Zimetbaum: Figure Study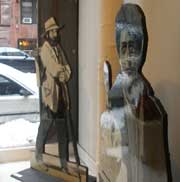 Marc Zimetbaum: Cézanne and Giacometti