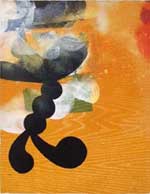 Charlie Hewitt: Grass Harp (#30), 2005, Paint collage on printed paper, 26 1/4 x 20"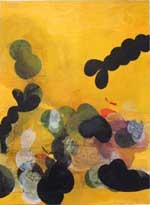 Charlie Hewitt: Grass Harp (#22), 2005, Paint collage on printed paper, 26 1/4 x 20"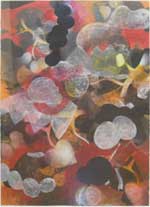 Charlie Hewitt: Grass Harp (XXV), 2005, Paint collage on printed paper, 37 1/2 x 26"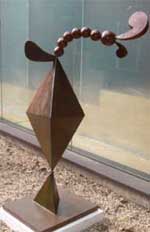 Charlie Hewitt: Little French Pope, 2005, Steel with Patina, 52 x 23 x 30"
Charlie Hewitt at Jim Kempner Fine Arts:
Recent Paintings, Sculpture and Works on Paper
On view from October 27 to December 10, 2006.
Charles Hewitt's gravity-defying welded-steel constructions range from shelf-sized maquettes, Copper Plated Saw and Tear, 13" x 15" x 3" to impressive standing pieces, Big Rooster, 95" x 60" x 47". The sculpted forms mirror the images in the works on paper and reconfigure as line-drawings in small oil compositions creating a lively interaction between two- and three-dimensional modes.
Hewitt builds on the technical and imagistic groundwork laid by mid-twentieth century masters from David Smith to Philip Guston, bringing their modernist aesthetic of iconic form and surrealist narrative into contemporary terrain. Hewitt's streamlined modules, and even the titles of his pieces, reference this art-historical tradition and its influence on his work.
For example, Hewitt's saw-shape, suggesting either an implement of manual labor or a cock's comb, recalls the significance of both images in David Smith's seminal work, Big Rooster, 1946. Smith's use of found objects, and in this case a saw blade, was revolutionary and inspired a generation of metal sculptors.
However, Hewitt is not simply paying tribute to Smith and modernism. The various images of chains, saws, hooks, cubes, pyramids, ropes, spheres, teardrops, crescents, thorns and cherries, resonate with the memories, private associations and literary allusions of his personal mythology. To quote Hewitt, "I use images from my past: The rope is an image from my Maine seacoast childhood. The thorn is an image from the Stations of the Cross and my religious upbringing. The black cherry — an image I find both endearing and durable — is a personal image of my mother." In the dream-like Grass Harp XXV (37.5" x 26") versions of these same forms are mysteriously scumbled, or flat and graphic. Clouds, saws (or cockscombs) and cherries touched with yellow float, juxtaposed with their black silhouettes, against an incandescent red background.
The enigmatic quality of the works on paper plays well against the witty, anthropomorphic feeling of the sculpture. Rising from the floor in an undulating line of spheres, Ruby's Delight, sprouts two tear shapes, suggesting a loopy caterpillar or an elongated jack-in-the-box. Similar motifs ornament a copper-plated diamond in French Pope, lending it the pensive air of a formal portrait. Subtle imperfections retained from the working process give the steel, copper, verdigris and bronze patinaed surfaces add oriental elegance to the sculpture.
Charlie Hewitt's recent show at Jim Kempner Gallery shows the development of an eloquent abstract style that expands into several different art forms. It is a comprehensive show, and credit is due to the gallery for supporting the artist's full range of expression,
See "Charles Hewitt, Painter and Printmaker," //www.biddingtons.com/content/creativehewitt.html


Charlie Hewitt: Ruby's Delight, 2005, Steel, 73 x 21 x 21"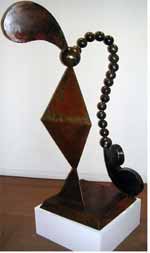 Charlie Hewitt: French Pope, 2005, copper plated steel and patina steel, 64 x 28 x 28"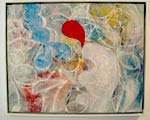 Charlie Hewitt: White Falls, 2002, oil on cnvas, 24 x 29 1/2"