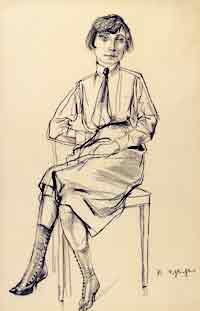 Rudolph Schlichter: Cocaine Addict (1925; black chalk on paper)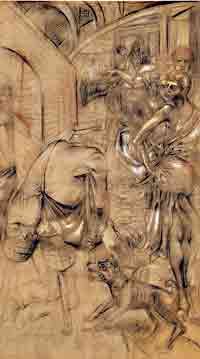 Otto Dix: Cartoon for left panel of "Metropolis"
GLITTER AND DOOM:
GERMAN PORTRAITS FROM THE 1920s

Metropolitan Museum of Art
November 14 2006 - February 19,2007
Verism (truthfulness) was the reigning idea of German art after the First World War
Here was an exhibit of portrait drawings and paintings done just before most of the avant-garde artists of Germany fled for their lives from Nazi persecution. There was an amazing flowering of art that glorified the new culture combined with the taste for decadent behavior. You can hear the muted jazz as you gaze at the depravity of prostitutes, lesbians and rich fat businessmen inhabiting a world created by the twisted times and illustrated by these artists. There was a lot of attention given to the veterans of The First World War. They seemed to be a haunting symbol of the lost war and the fall of the great Austrian Empire as they appeared in the artwork as crippled and deformed remnants of men.
There were art stars, Max Beckman, Otto Dix, George Grosz and, new to me, Christian Schad. These artists portrayed a rich, decadent society at its very end. The whores and prostitutes are mostly aging women for whom it is hard to believe that there is any tommorow. Perhaps they are the metaphor for the last days of this social phenomena.
The art seemed to glory in the outer limits of society, very rich or very extreme. Among them was Christian Schad whose work is quite literal but whose noteriety seems to come from his choice of subject matter. Schad painted freaks, people of color and people with physical deformities. The edginess of his subject matter seemed to energize him. He contained himself in a pristine style but delivered Expressionist images.
Most of these artists had great skill as draftsmen, Otto Dix's cartoon for a triptych mural is a glory to look at. there is great definition of form and texture combined with great character depth in this work. It is a complex and spralling work. But just as interesting and rich are his singular portrait drawings such as his portrait of Helen Lange, an elderly lady caught in sculpted acuracy in both the drawing and painting. His three-panel painting Metropolis shows maimed beggars mingling on the streets with gaudy tarts on the end panels, while the main panel is a splendid café with musicians serenading elegant guests in extreme fashion. Dix's portrait of Sylvia von Harden is said to be one of the finest paintings of his Berlin Period as well as one of the definitive works of the era.
Plenty of glitter and plenty of doom was there, but most of all was the definition of an era and style of art, the combination of superb drawing skills and extreme depth of character create an expressionist style never again achieved in modern times.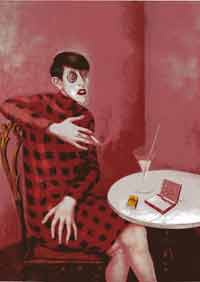 Otto Dix: Lesbian (the Journalist Sylvia von Harden; oil and tempera on wood panel)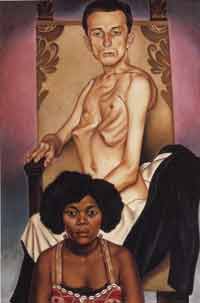 Christian Schad:Agosta "the Winged One" and Rasha "the Black Dove (1929; oil on canvas)