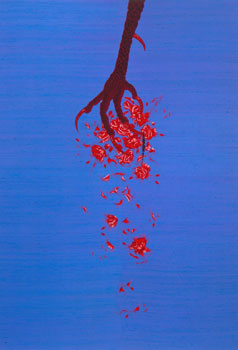 Angelo Filomeno: Vulture (2004; embroidery on silk shantung stretched over linen with crystals and garnets


This March, Angelo Filomeno had his third solo show in New York, comprising new and recent works at the Marianne Boesky Gallery in Chelsea(535 West 22nd St.; see their website www.marianneboeskygallery.com for more information on the gallery).

Filomeno's work is a stunning avant-baroque flight into what is mostly uncharted territory. Apprenticed to a tailor at the age of seven, he later attended art school, then moved to the design studios of major fashion houses, and finally became a costume designer in New York. Then, he began to "paint", so to speak, with a sewing machine.

Many people have used textiles in works of art, but Filomeno embroiders with the kind of gesture, verve, flow and precision one expects only from painters of the more expressionistic sort. His basic material is shantung silk; onto this he sews various resplendent threads, as well as metals, precious and not-so-precious stones, and other fabrics and objects. But there is no effect of collage; everything is severely coherent in large, sweeping, shimmering works of art whose look and presence still photography and monitor images cannot begin to convey.

These works are not merely glorious surface texture, either. With the true sensibility of the baroque, where the efflorescence of forms grows out of an orderly and rigorous basis, Filomeno's works are both formally interesting and contain significant symbolic and narrative elements. The formal properties are evident in pictures of the works, even if it is impossible to convey their light and texture; and when we look at them as representing things, rather than merely forms, we find life and death, pleasure and pain, attraction and repulsion as indissolubly linked in the art as they are in experience. As the gallery notes in its press release, and I could not put it more poetically, "Roosters and peacocks vomit dazzling brocades of crytals, while spiraling flora and butterflies are justaposed with crawling roaches and grimacing skulls." The skulls themselves may be exquisite creations of innumerable golden threads.

Not all the works are (mostly) two-dimensional. The most imposing objects at the show were three fantastical quasi-Renaissance helmets done up with feathers and jewels, hung on wires from the ceiling in a separate room, and dramatically lit from below. As with the "paintings", no still picture in a magazine or on a web site can possibly convey the look or presence of these objects as they twisted slowly in a dark and imperceptible wind.

The show closed all too soon. We hope to see a further show, with these and further works, before too long.