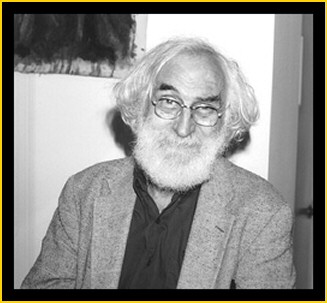 A shudder went through the art world last month when one of its spiritual leaders and great masters killed himself at the age of 87. Milton Resnick who was a great painter and a great teacher ended his life-long career in contemporary American Art.

I first heard of Milton from my good friend Beate Wheeler Holst Who had studied with him in Berkley University in the 1950's. What mostly I knew was the wonderful paintings of Beate. She had a firm grip on the tenents of abstract painting and seemed to embody the teachings of this master. She educated me to a number of koans of abstract painting . "Painting must have a light", was one of the first things she told me.

Over the years I have met many, many, artists who had studied with him in California, New York's Studio School, and who have been exposed to him and his ideas through the teachings of his wife and life long companion Pat Pasloff. They all worship at this man's feet. He had an artistic charisma and a perception of modern art that was both insightful and unique

In a somewhat sympathetic obituary in the New York Times, critic Roberta Smith cast a cloud over this artist's achievement. She called him dour and tried to place him in the hierarchy of modern American Art. Admirers who found nothing but joy and enlightenment in his work took offense.

With nothing but the greatest respect, Artezine.com is trying to present a number of different views of this artist's career.