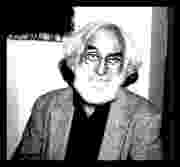 N.Y. Times Resnick Obituary
The New York Times, March 19, 2004 pC11 col 01.
Milton Resnick, Abstract Expressionist Painter, Dies at 87.
(The Arts/Cultural Desk)(Obituary) Roberta Smith. Full Text: COPYRIGHT 2004 The New York Times Company
Milton Resnick, a New York painter known for dour, thickly impastoed near-monochrome canvases, died on March 12 at his home on the Lower East Side of Manhattan. He was 87 and also had a home in Cragsmoor, N.Y. His wife, the painter Pat Passlof, said Mr. Resnick committed suicide.
Volatile, acerbic, unfailingly blunt, widely read and singularly dedicated to the ideal of the painter's hard, solitary life, Mr. Resnick was in many ways the popular stereotype of the bohemian angst-ridden artist. In the introduction to his 2002 collection of interviews and lectures, ''Out of the Picture: Milton Resnick and the New York School,'' the artist-critic Geoffrey Dorfman recounts how a young man, recognizing Mr. Resnick on the street, asked if he might accompany him on his walk. ''Are you a painter?'' Mr. Resnick asked. ''No,'' the young man replied. ''Then you can't,'' Mr. Resnick said.
In terms of longevity and dedication to first principles, Mr. Resnick might qualify as the last Abstract Expressionist painter. In terms of timing he had some claim to being among the first. Born in the Ukraine in 1917, he emigrated to New York with his family in 1922 and grew up in Brooklyn. He left home as a teenager when his father forbade him to become an artist. By 1938 he had rented his first studio, on West 21st Street, and was friendly with artists like Ad Reinhardt, Willem de Kooning, Elaine Fried (who married de Kooning) and Ibram Lassaw. He worked briefly on the W.P.A. arts project, started painting abstractly in the early 1940's and was a founding member of the Club, the Abstract Expressionist forum.
Yet Mr. Resnick was, as he put it, out of the picture. Having spent much of the 1940's serving in the Army during World War II and studying in Paris on the G.I. Bill, he was generally seen as working in de Kooning's shadow until the mid-1950's and therefore relegated to Abstract Expressionism's second generation, which he bitterly resented. As the 1950's progressed, his contemporaries became prominent, and Pop and Minimalism loomed; he came to feel excluded from the New York art world's past as well as its present. In the introduction to ''Out of the Picture,'' Mr. Dorfman poignantly and succinctly sums up Mr. Resnick's predicament: ''His most significant achievements took place subsequent to the dissolution of the world that bred him.''
Mr. Resnick's mature works came in the late 1950's, when his obsession with paint and his admiration for Cezanne and Monet gelled, and he began to let his expanses of quick Impressionistic brushwork build into encrusted surfaces dominated by a single color. Adamant in their denial of drawing, composition and subject matter, these works presented enveloping expanses that were at once lyrical and anxious. Their power was only slightly diminished when, in later years, he periodically added faint figures or forms. While Mr. Resnick's emphasis on a continuous surface built of myriad painterly gestures was in some ways the culmination of Abstract Expressionism, the sheer materiality of his surfaces also foreshadowed the proto-Minimalist paintings and reliefs of artists like Robert Ryman, Ralph Humphrey, Frank Stella and Donald Judd.
Mr. Resnick taught at art schools across the country as well as at the New York Studio School. It is part of his legend that a solo show scheduled at the Charles Egan Gallery for 1948 was canceled because of a misunderstanding. Beginning with the Poindexter Gallery in 1955, he had 25 solo exhibitions in New York, the last 10 at the Robert Miller Gallery, most recently in 2002. In 1985 the Contemporary Arts Museum, Houston, organized a retrospective of his work, which is also represented in many public collections, including those of the Metropolitan Museum of Art, the Whitney Museum of American Art and the Museum of Modern Art. In addition to Ms. Passlof, his companion since 1952 and his wife since 1961, Mr. Resnick is survived by his godson, Guy Fried, of Langhorne, Pa.