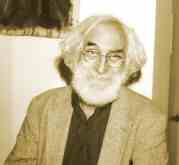 Out of the Picture: Milton Resnick
and the New York School.
by Geoffrey Dorfman
New York: Midmarch Arts Press, 2003. 315 pp., 16 color ills., 68 b/w, 6 maps. $35, $28 paper.
In his 1951 statement, "What Abstract Art Means to Me," Willem de Kooning concludes by describing a European immigrant of leftist political leanings who ended up covering the floor of his Hoboken apartment with layers of crumbled bread. "He is still alive but quite old and is now a Communist. I could never figure him out, but now when I think of him, all I can remember is that he had a very abstract look on his face." (n1) This parable distances de Kooning from his own immigrant origins, from the political crucible in which Abstract Expressionism developed and against which it had to define itself as a distinct artistic movement. That effort, its ethnic milieu, and the forms of painting that resulted from it are vividly reconstructed in Out of the Picture: Milton Resnick and the New York School, an oral history transcribed, compiled, and edited by Geoffrey Dorfman. The book offers an intriguing glimpse into the bohemian world of an artist who exemplifies many aesthetic and philosophical tendencies of the New York School--offering Resnick himself an opportunity to have the last word, but ultimately leaving many questions unanswered.
Dorfman's project recalls the format of the Documents of Modern Art series edited by Robert Motherwell. Here, Dorfman, who has clearly steeped himself in the milieu, opens with a "cast of characters" and a painstakingly reconstructed map of the neighborhood around Eighth Street circa 1950, with locations of artists' studios and gathering places. He has also assembled an extensive array of photographic documentation. After a brief introduction, he allows Resnick to chronicle his career in his own words in a series of interviews, covering his art-school days in the 1930s, the war years, the postwar scene in Paris and New York, and the transformations that came thereafter. At the heart of the book are five lectures on painting delivered by Resnick at the New York Studio School from 1968 to 1973, followed by transcriptions of panel discussions in which Resnick engages in dialogues with Leo Steinberg and Ad Reinhardt. Pat Passlof, a painter and also Resnick's wife, supplies a concluding section of reminiscences, of particular interest for her observations on the gallery scene in the 1950s. The book provides an eloquent overview of the period and its philosophical underpinnings.
As Dorfman remarks in the introduction, one thing is beyond dispute, that Resnick has used more oil paint than any other painter, creating densely worked canvases sometimes weighing over four hundred pounds. Beyond that, however, much about his art remains subject to fierce debate. While Dorfman supplies a historical context for Resnick's work, represented in sixteen color plates, he avoids critical commentary on the paintings and doesn't address recent scholarship. Himself a painter, Dorfman stresses his intention to keep himself out of the account; he is sympathetic to Resnick's dim view of art criticism, his belief that understanding is incompatible with art: "If you attempt a complete thing, a thing that corresponds to what is more intuitive within you ... it is a unique thing ... something liable to a judgment that is past understanding" (223). When Leo Steinberg describes it as a "style" (222), Resnick defends his impassioned but elusive way of talking--and painting--as the only way to convey an experience inaccessible to ordinary processes of naming and analyzing. By allowing Resnick's voice to advance his argument, Dorfman accepts limitations but gains rhetorical impact. Ironically, it's Resnick's own mastery of words--he's an engaging raconteur and also writes poetry--that lends this book distinction.
Dorfman does criticize what he views as the lack of an artistic community over the past half century: he regards the Artist's Club as the culminating expression of the artists' community that nurtured American art and dismisses what's followed as the triumph of art as commodity and display. "Attack," a panel discussion with Resnick and Ad Reinhardt from 1961, was transcribed from the only surviving tape recording of an Artist's Club meeting, and it reflects the artists' unease at the changes under way, even if they aren't sure whom to blame: "I'm attacking everybody," Resnick proclaims (258). Dorfman undertakes to evoke the "earlier, perhaps more na´ve era," in which artists dedicated to struggle in the studio were inspired by a sense of artistic freedom unparalleled in the history of art (10).
The appeal of Resnick's account is enhanced by the lure of bohemia, which he and Passlof enrich with anecdote and intertwine with aesthetics and social history. Their telling of tales seems still connected to Eastern European village life, which provides a spiritual backdrop for their struggle with modern painting. Beginning with his Jewish-Ukrainian origins, Resnick recounts the improbable development of his own artistic ambition. At the American Artists School, an offshoot of the John Reed Club, he studied with a teacher of Russian extraction and became inspired by the ideal of international art represented by the School of Paris. He recalls a sense of liberation in the work of those times, a freedom based in the realization that artists in New York could make paintings rooted in their own immediate experience. The radical impulse was not so much to be avant-garde as to become someone else: "We weren't making new art. We were making ourselves new" (20). Resnick recalls forgotten painters like Max Schnitzler, the son of a rabbi, who pioneered painting based on "pure emotion" and just paint. But by the time the critical and financial success of Jackson Pollock had established the new style, painters like Schnitzler had given up and moved on to other occupations.
In a telling anecdote, Resnick describes a late-night conversation with Holger Cahill, former head of the Federal Arts Project and husband of Dorothy Miller, a top curator at the Museum of Modern Art, and the artists Willem de Kooning and Aristodemus Kaldis. "You don't think I know about you, but I do," Cahill asserts--referring, as Resnick explains, to the fact that he was addressing "a Dutchman, a Greek, and a Jew"--"and I want to tell you right now that you're not going to get in." Resnick concludes, "What was coming was American. It started in the Fifties. By the Sixties it was complete: different artists, different critics, different museum people; a complete turnover" (34-5).
Resnick re-creates telling moments in the transition of this group of artists from a loose confederation of marginalized but ambitious individuals into the "movement" of Abstract Expressionism (which he ridicules as "an idiotic idea that brought it all back to Europe again," 33). He portrays divisions within the group, mocking the conceptual detachment of Barnett Newman (who complained that his wrist was sore from painting on one of his large canvases) and the "sensitivity" of Philip Guston. Aesthetic and personal issues are often intertwined and lend his accounts the richness of a novel. His relationship with de Kooning was especially contentious, based partly on his feeling that de Kooning made too much of his own facility in drawing, and complicated by an earlier romantic involvement with his wife, Elaine.
There's a ring of truth to these stories, even if they tend to present Resnick as a superior individual, who constantly undercuts his possibilities for success with his unremitting honesty, as in his rude response to Clement Greenberg's telling him a painting was finished Resnick is bothered by de Kooning's sense of himself as a great artist, and while he praises Pollock's integrity, there's a hint of condescension in his comment, on recalling Pollock's saying that he "hated art," that Pollock "didn't realize how difficult it was going to get" (61). He seems more comfortable praising unknowns such as Schnitzler. (His hostility to Picasso is overt, yet it should be noted that Picasso, like de Kooning, emphasized draftsmanship over pure paint). Whether Resnick's ultimate break with de Kooning came, as he reports, because Resnick gave up drinking (superior self-discipline) or because of controversies over drawing, Resnick's stories endow art history with human vividness.
The lectures, which include contentious interactions with the student audience, are also lively performances. The attitude toward art that emerges is striking for its negativity. Resnick sometimes speaks like a Zen master--"Becoming through Knowing Less" is the title of one lecture. He concludes one talk with the comment that art "doesn't do anything more than make you vulnerable to things and at the same time gives you a different feeling about yourself.... It's certainly not very important" (123). His stance has more in common with his friend Ad Reinhardt's "painting about nothing" than with the ambitious claims of Mark Rothko, Newman, and Motherwell, yet one can hardly call it modest. The "small thoughts" he celebrates inspire a passionate advocacy of art's highly limited but special realm. His negative theology of painting extends the heritage of Kazimir Malevich. Resnick's lyricism is tempered by the steely severity of a revolutionary--de Kooning calls him "a fuck'n Russian nihilist" (78). He tells one student to abandon music in order to see: "If you know anything about painting, you hate music.... Music gets at your heart. ... It's the most poisonous thing in our time" (191).
Resnick can be deliberately provocative and elusive, yet a phenomenology of painting emerges, centered on concerns for the self in relation to painting and on the purity of the artistic gesture, which Resnick wants to liberate from any intention related to expression or social relevance. Painting begins with "falling"--a disengagement from all the ongoing projects that inform our lives in the world. The painter somehow halts the fall and holds the work suspended, outside time and motion, a unique and complete experience, an intuition of beauty. Abstract painting for Resnick is just a visual engagement with paint--an art of material embodiment, yet intensely reflexive: the paintings work on him (142). Resnick exemplifies James Elkins's view of the painter as alchemist, one who endows materials with psychological potency(n2)--a practice worthy of study in our reformation-based culture.
As he talks, Resnick's works seem to emerge quite naturally from his life, yet the plates confront us afresh with their extreme scale and hermeticism. Why four hundred pounds? Resnick supplies an animated account of his working process (89), but his rejection of intentionality poses difficulties, since he can't explain why a painting comes to assume a specific form; beauty remains an experience with no particular visual qualities, like his dense, virtually monochromatic works of the 1980s. While Dorfman focuses on Resnick in the communal context of the early New York School, these works coincide with his self-imposed estrangement from Passlof and from people in general--further evidence of the fierce absolutism that sustains and complicates his career. Resnick's return to figural narratives in the 1990s suggests a reconciliation, although questions remain about his adoption of the figure, of myths of origin like Adam and Eve (a return to ethnic roots?), and, more recently, of images of an X, as though to cancel out the figures, that recalls Malevich's black square.
Dorfman convinces us of the exceptional character of Resnick's achievement but leaves it adrift in the contemporary context, an ongoing monument to the lost community from which he emerged. To examine his work in light of current reflections on painting, like Elkins's, does not diminish the value of the past, but rather helps liberate Resnick from it, as he has done himself in recent years. The impassioned advocacy of aesthetic experience that animates this book, along with Resnick's articulate perspective on his era, endows it with exceptional significance for artists and scholars; the material here should inspire the further extension of Dorfman's rich and engaging work.
(n1.) Reprinted in Abstract Expressionism: A Critical Record, ed. David Schapiro and Cecile Schapiro (Cambridge: Cambridge University Press, 1990), 224.
(n2.) James Elkins, What Painting Is (New York: Routledge, 1999), 3-4.
By Hearne Pardee
Hearne Pardee is a painter and critic in the Department of Art and Art History at the University of California at Davis, and a regular contributor to artezine.