Click on image to see larger view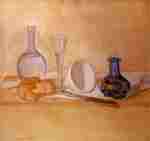 Giorgio Morandi:Blue Vase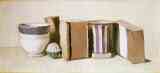 Giorgio Morandi:Cups and Boxes
Paul Thiebaud Gallery

A recent show of paintings by Giorgio Morandi at the Paul Thiebaud Gallery in San Francisco offered a welcome look at still-lifes and landscapes by this contemplative Italian artist. Eclipsed by the Italian neo-expressionists of the 1980s, Morandi's work has been seldom exhibited in recent years, but it represents the sort of painting that holds up well over time: seemingly indifferent to fashion and immune to modern anxiety, Morandi's art attests to the enduring presence of things.

Morandi is best known for his still-lifes, which engage groups of small bottles and boxes in elegantly nuanced compositional dramas. Some sense of the accomplishment of these mature paintings can be gauged by looking at an early still-life, in which deep shadows and dramatic contrasts predominate. In later paintings, such shadows are softened and minimized, and the material substance of paint assumes a central role: cool grays and off-whites resonate against ochres and browns, with simplified planes, including those of the table and wall, covered in rich impasto. The interlaced contours of objects seem to develop out of the horizontal edge of the tabletop, which limits their intimate environment, and light seems to emerge from their surfaces, as though from the depths of polished stone.

The landscapes here seem less successful in this effort to distill a material essence from the external world, perhaps because their subject is so much more complex, encumbered with history and mundane details. One landscape succeeds by virtue of a pinkish sky, which removes it from the everyday world and allows it to resonate with the self-sufficiency of the still-lifes.

If his insistence on intrinsic unity has isolated Morandi's modest canvases from the mainstream of contemporary art, it's also endowed them with a potent underground influence. Morandi is said to have painted the actual bottles and other objects before arranging them - a sort of post-modern artifice. Indeed, post-modernism often takes its inspiration from a conservative sort of modernism, and it's interesting that two more recent admirers of Morandi - Philip Guston and Wayne Thiebaud - have turned to his work for inspiration in their search for a representational style after abstraction. One has only to look at Guston's current retrospective of Philip Guston to appreciate Morandi's legacy in his simplified objects and their rich materiality. Morandi's influence is also evident in Thiebaud's painterly representation, especially in his still-lifes of pastries (Thiebaud, of course, also paints landscapes, which parallel Morandi's efforts to extend his sense of materials into that genre). Both Guston and Thiebaud also express indebtedness to the simplified icons of comics. Morandi, apparently motivated by the modernist impulse for flatness and abstraction, seems ironically to have tapped into something much wider, the sort of simplification that animates and personalizes everyday objects.

This breadth enables Morandi's work to remain so fresh and convincing. Paul Thiebaud should be commended for his efforts in assembling these works, rewarding both in themselves and in the bridges they provide between new and old currents in painting.