Click on image to see larger view.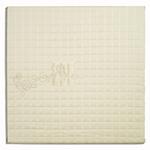 Amanda Guest, "Silk Square 2," 2004, thread on stretched quilted fabric, 18 x 18 x 1 in.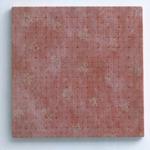 Amanda Guest, "Red Square," 2003, thread on stretched pellon and fabric, 14 x 14 x 1 in.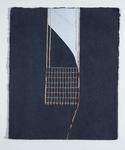 Amanda Guest, White on Black 2, 1997-2004, cut paper, thread on handmade paper, 10 x 12 in.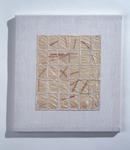 Amanda Guest, White Thread Covers Blue, Copper Shows Through, 1997-2003, cut metal, Japanese silk tissue, ink, thread on stretched fabric, 9 x 11 in.



Images courtesy of
Kristen Frederickson Contemporary Art
149 Reade Street
New York, New York 10013

Needlework provided generations of refined women a way to earn a living as well as an acceptable form of creative expression. Amanda Guest gives this modest craft the conceptual vocabulary of Modern Art. Guest's deceptively minimalist, stitched constructions are now on view at Kristen Frederickson Contemporary Art, 149 Reade Street, March 19 through April 17, 2004.
Choice of media, meticulous layering and embellishment give Guest's work a sensual edge. In "Red Square, 2003" (14" x 14" x 1") pellon, a translucent interfacing fabric printed with a delicate red grid, is stretched modestly over lush crimson brocade and then embroidered with red dots known as French knots.
Guest's disciplined technique compounds symbolic meanings in "White on Black 2, 1997-2004" (10" x 12") as she uses the archetypal colors, red, black and white to good effect. The ecstatic, emotional power of Dionysius and the rational illumination of Apollo are western counterparts of Yin and Yang. The black ground and stitched white grid represent these opposing forces while a red thread, umbilical cord and lifeline out of the Labyrinth, weaves its way through.
Silk Square Series 17-23 (18" x 18") begins with embroidered images of 18th century chairs. These give way to abstractions, as Guest's fine drawing hand manifests in looping, curved lines sewn across quilted grounds.
"White Thread Covers Blue, Copper Shows Through, 1997-2003" (9" x 11") plays refinement against rawness. Guest's carefully stitched grid produces chaos as it puckers the delicate Japanese tissue overlaying glittering copper slivers.
Guest created a number of pieces with Paul Wong at Dieu Donné Papermill, a non-profit organization in Soho that offers artists and papermakers the opportunity to collaborate on specific projects. Some of these works have a topographical quality that seems to expand their scale. There is also an intimation of skin, where embedded lines of thread or red and white paper show through translucent layers.
Guest's work conjures up Agnes Martin's cool, meditational compositions and hints at the sexual menace of Eva Hesse and Louise Bourgeoise. Like the disguised fairytale princess plying her humble task, the mute seamstress from mythology or Hester Prynne stitching the truth of her ravishment, she encodes a feminist agenda in curlicues and French knots. Guest makes a compelling contribution to the ongoing mind/body debate and puts to bed the question of whether women's work is high or low art.